"Kärleksnuten", guldring/ "Love knot", ring in gold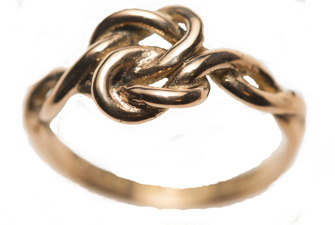 Pris:
4 800 kr
Inkl. 25% Moms
Art.nr:
P852688
Antal:
Vår guldring "Kärleksknuten" är i 18k rödguld, ca 2 cm i diameter och väger 4 g.

Vi säljer idag antingen via postförskott, direktbetalning till bankgiro (bankgiro-nr: 434-5591) eller Swish (Swish-nr: 0708-12 48 25). Vid köp på 1000 SEK eller mer står vi för frakt och betalkostnad. Vid köp via bankgiro var noga med att uppge ditt eget och varans namn. Vi tillverkar våra smycken själva. Därför finns inte alla modeller i lager, men vi färdigställer din order så snart som möjligt. Eftersom vi även har en fysisk butik i Kungsbacka kan du så klart välja att besöka oss.

At this date we only sell with either "Cash on delivery" or "Prepayment". Our bank giro number is 434-5591, but most of our web costumers contact us before they place an order. Be sure you report your full name and address, as well as the name of the product you are buying. We are producing all our models ourselves. Therefore all of them are not in stock, but we are working hard to complete your order as soon as possible. Since we also has a store in Kungsbacka, Sweden you can of course visit us there as well.